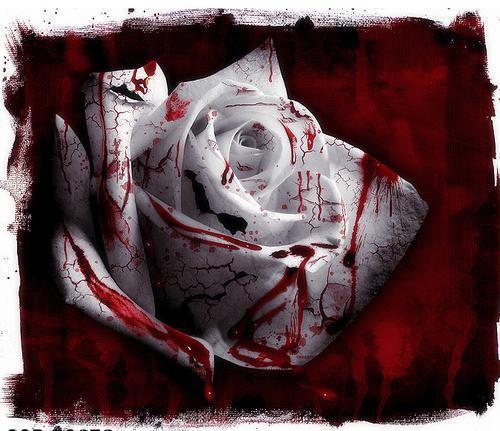 "You must hunt regularly, M'lord," fell on his ears and elicited another moan from him. Tormenting him with visions that wouldn't come true for long hours now was cruel. Cruel. Cruel. And Vincent had never been… "There," the man's hands hauled him into an upright position and he didn't understand why until a cool, wet wrist touched his lips. Oh, it burned. It burned with his need clamoring for satiation deep inside him. He needed… he needed… Vincent's hand tilted his head back, just slightly, just enough to let the trickle between his lips. The fingers knew for what he hungered and gently pried his mouth open.
Blood! Its mercy hit his tongue and woke him up. Instantly. His hands lashed out and latched on Vincent's arm. Holding onto it tightly, pulling the wound closer to his own mouth, Sanyi sucked, sucked, sucked. Overcome by raw need and silent thankfulness alike, he drank the gift with quiet snarls of a beast but still enough of control not to tear at the slash, not to sink his fangs in flesh. This was his man. He couldn't violate his body and desecrate the gift delivered along with light brushes of tender fingers through his hair.
© Ciaran Dwynvil
I have just teased you with another snippet from In Blue Poppy Fields. The release date of my latest gay erotic paranormal fantasy is set on March, 20. So in less than two months you can read more about Sanyi's unusual relationship with his valet and learn why the man's wrist feels cool to a vampire.
Did you like reading? I'll be happy if you leave a comment. (to do so just click on the title of the article and then scroll down to Leave a comment field).

Today's post is participating in Saturday Seductive studs bloghop, where several m/m fiction writers meet to share snippets of their writing every week.

Click here for a complete list of Saturday Seductive Studs participants and help yourself to more teasers. Tweeting about posts that caught your attention is encouraged, using the hashtag #SeductiveStuds.

The image of a bloody rose is used according to terms of Glitter-Graphics.com. The link leads to its page there.